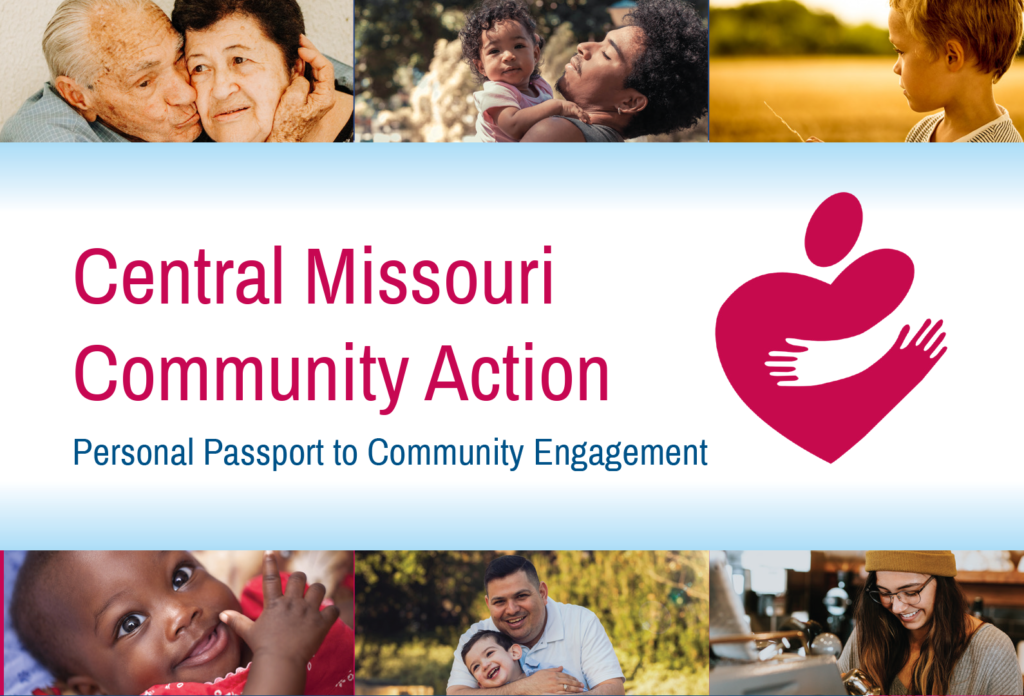 Use this page as a companion to the CMCA Personal Passport to Community Engagement documentation booklet.
Welcome to the CMCA Passport to Community Engagement Page.
On this page you will find opportunities to: 
Learn what it's like for people living in poverty.

Learn about the causes and conditions that create poverty.

Learn about organizations, agencies, and other groups working to eliminate poverty.

Learn what you can do to advocate for and support those living in poverty and those working to move out of poverty.

Gain a greater understanding about how race and racism impact the conditions and causes of poverty.
As you review your options for learning more please check the CMCA and Community Events Calendar below for scheduled events and important information.
CMCA and Community Events Calendar
Sun
Mon
Tue
Wed
Thu
Fri
Sat

Callaway Resource Network Meeting

9:00 am

Callaway Resource Network Meeting

@ Virtual Event

Jul 1 @ 9:00 am – 10:30 am

Callaway Resource Network Meeting First Thursday of the month – 9:00 am – 10:30 am. Contact Kelliep@cmca.us for a link to attend.

Housing Choice Vouchers Public Hearing

9:00 am

Housing Choice Vouchers Public Hearing

@ Virtual Event

Jul 2 @ 9:00 am – 4:00 pm

Individuals wanting to make a public comment regarding the Landlord Incentive Program (download information packet) may do so on Friday, July 2, 2021, via GoogleMeet. Scheduled meeting times and links are below. Callaway County[...]

Prosper U Financial Series for BRIDGE Families (CMCA Event)

6:00 pm

Prosper U Financial Series for BRIDGE Families (CMCA Event)

@ Virtual Event

Jul 12 @ 6:00 pm – 8:00 pm

Prosper U is a free financial education class offered by Central Bank of Boone County. This special group of classes is being provided to families participating in the BRIDGE program. Please contact Shonda White[...]

Columbia Fun Fest

5:00 pm

Columbia Fun Fest

@ Clary Shy Park

Jul 21 @ 5:00 pm – 8:00 pm

Family Fun Fest events will be held the third Wednesday of each month at a different park location in Columbia, MO. Entertainment will include food trucks, music, live performances, and interactive activities. Each month will[...]

Women and Infant Relief Fund Baby Shower (CMCA Event)

11:00 am

Women and Infant Relief Fund Baby Shower (CMCA Event)

Jul 22 @ 11:00 am – 12:00 pm

The Women and Infant Relief Fund (WIRF) supports expecting and newly delivered mothers and their babies with education, supplies, crisis support, and baby showers. WIRF baby showers include education to help get baby and mom[...]

Make note of something you didn't know or questions you have.
Attend Groundbreaking Ceremonies and Open Houses
Check the calendar for upcoming events!  
Join a Committee
Throughout the year CMCA offers opportunities for Board Members to participate on special committees. 
Show Me Healthy Relationships (SHMR) Events
ShowMe Healthy Relationships (SMHR) offers free courses for Missouri couples and individuals who want to be in a committed relationship. Courses focus on strengthening relationship skills.
Check the calendar for upcoming events!  
Foster Grandparent Events (FGP)
The foster grandparents program provides low-income adult seniors, ages 55 and up, opportunities to mentor children at schools, daycare centers, and other settings. Volunteers work with children individually and in small groups to provide support, guidance, and friendship for kids with special emotional, educational, and physical needs.
Check the calendar for upcoming events!  
Visit Your Local Head Start Centers
CLICK HERE to find the Head Start Centers in your area. When you're ready to visit, email Shonda White (shondaw@cmca.us) to arrange to have Darin give you a guided tour. 
Back to School Welcome Events  
Head Start centers across our service area host in-person and virtual events for families as they prepare to return to school. 
Check the calendar for upcoming events!  
Attend a CMCA Boot Camp 
These interactive events provide information and updates about CMCA programs and services. 
Check the calendar for upcoming events!  
100 Man Lunch Events
These events are hosted a Head Start Centers and celebrate the importance of positive male role models in the lives of young children.  Check the calendar for upcoming events!  
BRIDGE Events and Training Sessions
BRIDGE is a program that supports the transition of Head Start families to the early elementary years of school.
Check the calendar for upcoming events!  
Head Start Parent Training Events
Throughout the school year, Head Start centers provide vital training sessions focused on health and well-being.
Check the calendar for upcoming events!  
WIRF Baby Showers (EHS) 
Meet expectant and newly delivered moms and their babies as they enjoy a shower and learning opportunity.
Check the calendar for upcoming events!  
Missouri CAN is the statewide association of Community Action Agencies, Allies and Supporters united to end poverty.

Missouri Women's Business Center Opportunities
Payroll Protection Plan Workshops
Learn more about the Payroll Protection Plan and how to prepare to file for this special opportunity for small businesses. 
Attend a LaunchU Graduation
LaunchU is a six-week course for aspiring and early-stage business owners that helps them complete a written feasibility plan to determine if their business idea is a "GO" or a "NO GO."  Graduations are scheduled every other month.

Visit your local Family Resource Center (FRC)
Email Shonda White (shondaw@cmca.us) to arrange a visit with Darin serving as your tour guide. 
Mini-Poverty Simulation Workshop 
Learn what it's like to live in poverty through an interactive experience.
Check the calendar for upcoming events!  
FRIENDS
This community group is hosted in Cole County.
Check the calendar for upcoming events!  
Fundraising and Special Events

Attend and Promote Fundraising Events
These may include galas, online events, or smaller get-to-know-you-style events.
Tigers on the Prowl
CoMoGives
Promise Gala
When you donate to CMCA you may designate your gift to support the greatest needs or to support a specific program or county. 
Monthly
Special campaigns throughout the year
Follow CMCA on Social Media

Understanding Adverse Childhood Experiences (ACEs)
Adverse Childhood Experiences (ACEs) have a tremendous impact on future violence victimization and perpetration, and lifelong health and opportunity.  Learn More Here.
Lynching in America: Confronting the Legacy of Racial Terror
During the period between the Civil War and World War II, thousands of African Americans were lynched in the United States.   Read More Here.
Black Americans struggle to get COVID-19 vaccine; history threatens to repeat
Head Start programs prepare America's most vulnerable young children to succeed in school and in life beyond school.
Learn how you can transition from being an ally to being a leader in the fight for equity. You can help end racism and build a community in which people's outcomes in life are not determined by their skin color.
This YouTube series explores various aspects of racism and challenges viewers to rethink the ways that racism presents itself in our country.

Below is a list of suggested readings to build understanding around race and racism issues.  Additional titles we be added along with additional topics.  
How To Be An Anti-Racist by Ibram X Kendi
Between The World and Me by Ta-Nehisi Coats
Citizen by Claudia Rankine
I Know Why The Caged Bird Sings by Maya Angelou
So You Want To Talk About Race by Ijeoma Oluo
The New Jim Crow by Michelle Alexander
Ain't I A Woman by Bell Hooks
Sister Outsider by Audre Lorde
Diversity Inc. by Pamela Newkirk
Stamped From The Beginning by Ibram X Kendi
The Hate U Give by Angie Thomas
Zami By Audre Lorde
Invisible Man by Ralph Ellison
Black Skin, White Masks by Frantz Fanon
Kindered by Octavia E. Butler
The Memo by Minda Harts
Born A Crime by Trevor Noah
Biased by Jennifer Eberhardt
Blindspot by Mahzarin Banaji & Anthony Greenwald
Sway by Pragya Agarwal
Native Son by Richard Wright
Nickel Boys by Colson Whitehead
Go Tell It On The Mountain by James Baldwin
Autobiography of Malcolm X by Malcolm X and Alex Hale
The books listed above may be purchased at most booksellers including these black-owned bookstores.
Videos , Websites, Downloads, and Social Media Pages

Below is a list of topics with suggestions for videos, websites, downloads, and social media pages to explore.
Race
13th (Documentary, Netflix)
This documentary highlights the 13th amendment of the constitution and the prison boom in America. It marries digestible data while also giving first-hand accounts of what racism can look like in America. 
Rachel Cargle is an academic that created the Great Unlearn which helps people unlearn race and America's history as told by the school system. While the Great Unlearn is not free, Rachel's Instagram includes insights on race, racism she experiences, and other important race-related topics. 
1619

 (Podcast)- This podcast discusses slavery and its lasting effects on America. 
Focused on missions in Africa and the "white saviors" sent to save them, it highlights the importance of not imposing one's own history, culture, and experiences on others. 
Emmanuel Acho/ Uncomfortable Conversations with a Black Man

(Youtube Series)
This series gives insight into real conversations about race between a Black man and people that would probably not have the opportunity otherwise. Emmanuel (host) does a great job of showing both sides. 
This series breaks down race in America in a fun engaging way. 
This article raises awareness that racism is not a "yes or no" option but more of a sliding scale. Some are openly racist while others aren't as openly racist. 
A Film by Debbie LeeKeenan • John Nimmo • Filiz Efe McKinney
This film produced by Debbie LeeKeenan and John Nimmo,  features vignettes of anti-bias strategies in early childhood classrooms interspersed with teachers reflecting on their practice.  
Disability
Imani Barbarin is a woman who writes about her experiences with racism and ableism. She is both Black and disabled.
This podcast is hosted by Mizzou alumn, Madi Lawson. It highlights Madi's experiences as a woman with a disability and the misconceptions she's encountered.
This documentary has been recommended by many disability advocates, including Imani Barbarin. The documentary highlights a groundbreaking summer camp that brings together a group of teens with disabilities to build a movement, forging a new path toward greater equality.
LGBTQIA+ 
Disclosure (Documentary, Netflix) Featuring conversations with individuals who are trans and their thoughts on the impact that Hollywood has on the trans community.
This documentary tells the story of the AIDS pandemic in America and the people who fought to be heard. 
Weight Discrimination
Aubrey Gordon is a writer who discusses the experiences of life in a fat body. She is a great introduction to fat politics and the bias against fat people. 
This podcast breaks down the myths of wellness and weight loss that we have been taught our whole lives.